Welcome to Sideshow Illusions, a wonderful world of the odd, the sensational, and the bizarre all with a touch of fun and sexiness, bringing Fairground Sideshows back to life.
"On Saturday in one single day an unprecedented 3,000 visitors flocked to the Headless Lady, Goldfish Woman... listening to the chattering reaction, every class, age and type has found something to wonder at in laughter and surprise"
Libby Purves, The Times
"Jon Marshall's sideshow illusions steal the show with the fresh appeal of their tongue-in-cheek candidness. In these times of anaesthetised, politically-correct entertainment, who can resist the lurid lure of Mademoiselle Yvette the Headless Lady ("Alive and Human!") or the Butterfly Girl? "£1,000 if not alive!"
This is Cabaret
Step right this way for the most incredible, the most stupendous and the extraordinary! Be amazed by Gloria, the Living Half-Lady! Witness Yvette, the Headless Lady, kept alive by the miracles of modern science! See Cleo the tiny, bikini-clad Girl in the Goldfish Bowl. Experience the terror, enjoy the creepy delight, be astonished in The Mummy Show as Princess Elmira transforms before your eyes into a hideous, two-thousand-year-old undead mummy monstrosity. And there are more inexplicable marvels in Sideshow Illusions' collection of the most thrilling shows you will ever see!
Sideshow Illusions have restored, re-interpreted and re-created astounding original Sideshows that have been hidden away in storage, undiscovered for many years. While remaining true to the spirit and showmanship of Jon Gresham's 1950s shows, they will perplex and flabbergast modern audiences of all ages and backgrounds
The shows have already thrilled thousands of visitors across the UK from Blackpool's Showzam Festival to Margate's Dippers and Dunker's Festival.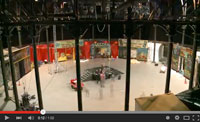 THE WONDERSHOW In collaboration with The Roundhouse Circus Fest, the Insect Circus and National Fairground Archive, Sideshow Illusions co-produced the sell out ten day attraction featuring six of our original Sidshows.
Wondershow at the Roundhouse Video
You won't believe your eyes and you'll leave with a smile on your face!
For more information call

01482 709939

or contact Sideshow Illusions today!